Dictionaries ​
When you first install the component, you download Russian and English dictionary phpMorphy]1. On this page you can add something or delete what you don't need.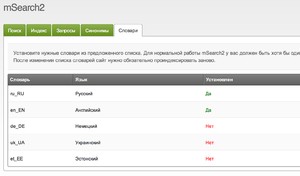 In order for mSearch2 to work normally you will need at least one morphological dictionary. phpMorphy has 5 dictionaries:
Russian
English
German
Ukranian
Estonian
Dictionaries are downloaded from SourceForge. This process depends on your server connection. You can choose a mirror near to it.